Helen Lee – January 24, 2008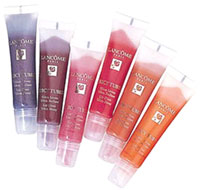 Before the Lancome Juicy Tube, we were wild over Bonne Bell Lip Smackers. Remember those? The colours, the smells, and the ads? Well times and changed since those days, and the hottest lip gloss around is the Lancome Juicy Tube.
Sure it's not the most affordable lip gloss, retailing at US$18 (or AUD$42) but there is much to love about the Lancome Juicy Tube.
– THE GLOSS
A thick glossy gel, it has everything from holding power, a sweet smell, a great range of colours, a sheer tint, and most importantly for a lip gloss, a shiny pout. The thing most people won't tell you about Juicy Tubes is that they are slightly on the sticky side and on a windy day you may find strands of hair attached to your lips. It's not the prettiest look in the world, but that is the price to pay for a gloss that lasts, and you don't need to apply much to gloss up your lips.
– THE COLOURS
The range of colours to choose from keeps growing every season, with almost every colour of the rainbow available. From your basic red's and clear gloss, to different shades of pink, red, purple, beige, orange and corals. With cute names like Thrill Seeker, Cupcake Pink, Spring Fling and Heavenly Body, you'll have hours of fun telling your friends about it.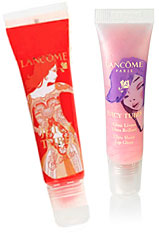 – EVOLUTION
Since the Lancome Juicy Tube launched in 2002 as a Ultra Shiny Lip Gloss, it's been setting new standards every year. With the addition of the Juicy Tube Smoothie (lip glosses with a bit of texture), Juicy Tube Sparkling Night (va-va-voom sparkle), and Juicy Tube Tropiques (smells like a tropical beach, with shimmering shine) the lip gloss sector at Lancome keeps blossoming.
In 2007, Lancome partnered with international artist, Julie Verhoeven to create a limited edition Lancome Juicy Tube. Together they created a limited edition colour, Pink Muse. A shimmering pale pink gloss, the tube even featured one of Verhoeven's illustrations.
Then in January 2008, Lancome revealed that they had partnered with up and coming British designer, Christopher Kane, to create another limited edition Juicy Tube, Burns Night, a dark tangerine coloured gloss complete with a fashion illustration on the tube and signed by Kane.
– BEWARE OF IMPOSTERS
When an item hits cult popularity, you start noticing other brands doing imitation versions. Though cheaper Juicy Tube look-a-likes was never my problem (because lasting power was always a problem with imposters), but it was buying from a online cosmetics retailer that was selling fake Juicy Tubes.
The price was half off, so I thought it was a fantastic bargain and snapped up a few extra glosses. But little did I know, the Juicy Tubes were fake. Instead of moisturizing my lips, the fake Juicy Tubes were drying up my lips and causing them to flake. So heed this warning, and don't buy online (or anywhere) unless it's from a reputable online beauty retailer.
Finally, have fun with Lancome Juicy Tubes, after all that was the allure of Lip Smackers.


A selection of Lancome Juicy Tube colours from Sephora
Original article by Samantha Van with Helen Lee uploaded August 2005.