Michelle L with Helen Lee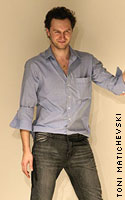 Designer Toni Maticevski may have a name that would challenge many at a spelling bee, but in the fashion industry his is the name everyone is talking about.
Ok, so it's the Australian fashion industry, but soon the trendsetters of London, Paris, Milan and New York will know about him as well. With Maticevski's talent and drive, who knows what else is just around the corner? The 28-year-old Melburnian may even find himself on the short list to become creative director of a major fashion house some day. If he wanted to that is.
Having already turned down a job at Donna Karan in New York because the place "creatively drained him", this is a man that knows what he wants and how to go about doing it. He started by leaving his position at Cerruti in Paris of two season to come home to Melbourne to launch his signature label.
Seems he would rather design and make his own clothes, under his own name.
It was when he was 12 he realised that his love for sewing and designing could be a real career. "I've been doing it since I was a little kid – sketching, mucking around with material.' So after learning how to sew, there was no stopping him.
Maticevski's signature is its intricate tailoring and the way he puts together delicate fabrics into some of the more detailed and modern garments. His gowns are always red carpet material, with his Spring Summer 2005 show producing some stunning gowns made from materials like satin, chiffon.
But while every collection is different, his artistic use of sculptural silhouettes is the same. Experimenting with different cuts, folds, colours and garment construction; his designs take your breathe away and has found his dedicated following grow.
In 2002, Maticevski won Best New Designer at the Melbourne Fashion Festival with his debut demi-couture collection. Since then, he has quietly but steadily built on that early success with collections that are often imbued with romantic elegance.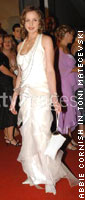 At the 2004 AFI Awards, Maticevski received major red carpet exposure when up and coming Australian actress ,Abbie Cornish, wore one of his gorgeous dresses to accept her award for Best Actress in a Leading Role. During last month's Australian Fashion Week, Maticevski's spring/summer 2005 show was again a highlight, with Vogue Australia's Natasha Inchley describing it as "a most accomplished collection with a unique point of view."
It was also at Australian Fashion Week where Maticevski launched his first collection of menswear, with a relaxed look and classic tailoring.
Most recently he was tied with Kit Willow for the 2005 Pris De Marie Claire Best New Designer award.
So, while other up-and-coming designers are gossiped about as the next designer for Celine or Gucci or whatever house is currently vacant, Maticevski eschews the hype and continues to work quietly and confidently at building his own house. A notable achievement in itself, as restraint is not often found in fashion.
Toni Maticevski's designs can be found at Myer stores in Australia, at the Elizabeth Charles boutique in New York City as well in selected boutique's in Paris and Britain.
Images from the Toni Maticevski S/S 2005 collection: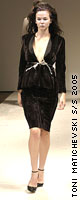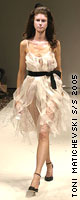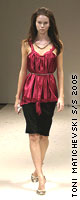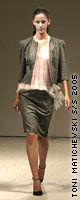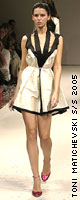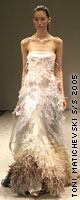 For more information go to www.maticevski.com