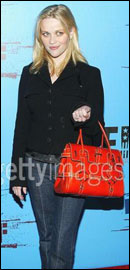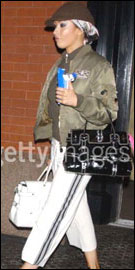 Have you see these bags featured in fashion and gossip magazines lately? I saw at least 2 of these bags in a recent trip to Sydney – on the arm of some very stylish magazine girls (I also spotted a third carrying around a fake one). On a errand run, I walked past two sitting in the window of a swank accessories boutique and I was tempted to run in and distract the sales assistants and run out with one. Of course I didn't though, because I am here writing about them instead.
They are the "it" bag (soon to be taken over by the slightly punk Balenciaga Motorcycle bag). The Luella Gisele is named after the supermodel of our time, Gisele Bundchen herself. And boy was that a good omen for the young British designer Luella Bartley.
This cute tote bag has been seen out and about town on the arm of many a fashionista, celebrity or otherwise. With it's soft calf skin leather, buckles and cute detachable leather hearts with 'Luella' inscribed on them, they are pretty and girly. The slight punk edge channels Ms Bartley's earlier women's wear collections and British roots.
They come in practically every shade, from pretty in pink or purple, to classic black, white or red. And in this season's hottest colour – green.



So when did this trend kick off?
They hit stores everywhere late 2003, early 2004, but they didn't become popular straight away. Why? Because we were just waiting to see it on the arm of celebrities. But soon enough stylish celebrities like Kate Moss, Christina Aguilera, Reese Witherspoon and even Gisele Bunchen herself have been snapped with one in their arm. Ms Aguilera was even snapped carrying a black one and a white one.
Another reason why the Luella Gisele became a hit was because it could hold everything you needed during the day, in a cute and stylish bag. After all how hard is it to find a stylish bag that could hold everything from beauty supplies, a water bottle, your phone, organiser, a pen or two, and other odd's and ends a girl tends to pick up along the way.
When will it end?
Not for at least another year, unless it is really our generation's modern classic handbag. If so I think someone should really be sending me one pronto. I doubt we will be seeing these bags slipping into their dust bags and being stored for your daughters for a while, they are a young classic hold all that doesn't look like something your grandmother use to carry.

Some online retailers that stock Luella Gisele's