Helen Lee – 2003
Personally I am a huge believer in black, its classic, elegant chic, clean and always in style. Nothing will ever 'be the new black'. I constantly read in so called lifestyle magazines that [insert colour here] is the new black, but low behold a issue or two later there are articles, features or editorials about how that so called trend has run its course and we're back at square one again. Back to black.
So do you really need a reason to wear black? I say no.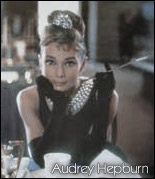 Its always seen to be elegant, think Nicole Kidman in John Galliano when she won her Best Actress Oscar in 2003, Elizabeth Hurley in her stunning Versace safety pin dress in 1994, or even back to the style queens of the 60's and 70's. Jackie Kennedy Onassis and Audrey Hepburn are loved all over the world, and what are they usually wearing? Black. Remember that Audrey Hepburn photograph from 'Breakfast at Tiffany's'? The one with the cigarette holder in her mouth. Can you tell me you haven't seen that picture more than 10 times? What was Ms Hepburn wearing? A black dress with chic black elbow high gloves. Not many things can stand the test of time like Audrey Hepburn, Breakfast At Tiffany's and the Little Black Dress.
Black is not a fashion fad. Its a fashion commandment. Not only does it make you appear slimmer, any dirt or food stains (god forbid) will be hidden away and save you from the embarrassment of walking around with a stain all day. Plus what about sexy black underwear? What else can make men drool that much?
We all go out and spend spend spend on the latest pastel colours or the fluoro 80's revival stuff, but inevitably we mix and match it with the basics, where it all began. With black. Its creeps back in without your noticing; count how many pants you own then ask yourself what colour is the most dominant. Same with winter coats, then your shoes.
So why not spend a little on the black side of the wardrobe? Buy a few classic items you can wear for more than a season or two. Don't talk yourself out of it by saying its not cool or its not trendy. What kind of word is cool anyway? It should stay in the 80's where it belongs, along with neon colours and shoulder pads.
Here are a few black pieces you should work into your wardrobe. Start with the basics and build up. Add the colours of the season, or the crazy trend of the month.
Black trousers: We all need a nice pair of slim fitting pants, whether its for that important job interview, or teamed with a sexy top and a slinky pair of black stilettos for a glam night out with the girls, or just teaming it with a bright and funky ensemble inspired by the current trends. These Galliano pants are perfect for every occasion, while you don't have to spend as much as you if you brought the Galliano, try to look for something with a similar cut and timelessness.
The 'Little' Black Dress: We hear it everywhere, everyone needs a little black dress. We're not talking a slinky mini dress. We're talking about something timeless and elegant, so maybe we should get rid of the 'little'. It can be sleevless, strapless, knee length, below the knee, a-line or body hugging, it doesn't matter. As long as it shows off your gorgeous figure and is in your wardrobe for those last minute dates with that gorgeous guy you have been lusting after for weeks.
The Black A-line skirt: Pencil skirts are fine in denim, but if you're going for more serious fabrics like wool, cashmere, tweed or cotton, then the shape should most definitely be A-line. The A-Line skirt is just about as timeless as black and the little black dress.
The Wool / Tweed Coat: You wonder around cities at around 5pm – 6pm and you notice that all the business men and women are going home. What are they wearing? A Black wool or tweed coat. And you need one too. Not because you may aspire to being a business woman or man, but because they are timeless and you can wear them year after year. Plus they also keep you warm in the cold winters. Don't forget to make sure the coat is lined so it does actually keep you warm!

The strappy black sandals / stilletoes: Now these i swear are a must. The first 'real' pair of shoes i brought for myself was a strappy pair of heels. Why? Because they look awesome with jeans, skirts, pants, and even with the current trend of wearing heels with cropped pants. You don't want to be caught out with them. They are availiable in all different styles and different heel height. Go shoe crazy and stock up on all different strappy heels!