Bella C – April 5 2005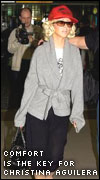 Anyone who has braved an international flight will be familiar with the post-flight "uglies". In addition to jet lag and a weary mind, somehow that seated space between departure and arrival has wreaked havoc on your skin, made your mouth feel like sandpaper, and your whole body has the same unbelievable grottiness of transit smoking lounge. Hopping off the plane, you may feel like you actually resemble your awful passport photo. Until such a time as commercial space travel, here are five tips to tame the post-flight uglies, so you'll arrive feeling much cleaner, much happier, much healthier and much prettier!!!
1. Prepare your body a few days prior to departure
This means eating lots of fresh fruit and vegetables, getting loads of good sleep and limiting intake of booze and coffee. You don't need to adopt a Spartan regime, yet a few days of gentle detox will help keep you feeling in-flight fresher and the uglies at bay.
2. Keep your skin fresh-as-a-daisy
The oxygen within an airplane keeps circulating over and over again, therefore wearing a full face of cakey make-up is just asking for skin break-outs. If you can't possibly go without some make-up, just put some coloured lip gloss and save the rest for the airport bathrooms upon landing. There are great products on the market right now to help keep your skin fresh while travelling, like Nivea Spray On Toner and Ponds Cleansing Wipes that fit snugly into your cabin luggage. Keep the skin clean and moisturised. Go bare faced, baby!
3. Comfort before Fashion.
Cabin pressure causes the feet to swell up, so ditch the high heels and wear the softest, loveliest shoes you can find. Think satiny Chinese slippers, canvas Mary Janes- even dear old Ugg Boots. As most airports require passengers to remove shoes when walking through metal detectors, comfy shoes can be slipped off very easily. A nice woolly shawl can serve as a pretty alternative to those cheap little airline blankets. Wear clothing and underwear made from healthy, natural fibres, with nothing that pinches or squeezes or pokes!
You might like to wear some daggy track suit/pyjama style pants until landing. They mightn't look too sexy, but wearing short skirts threatens to compromise comfort and modesty when curling up for an in-flight nap!!!
4. Load up on Water!
Drink lots and lots of water both before, during and after the flight! Yes, it will mean running to the 'loo more, but you'll feel much more hydrated and lovely in the long run. On that note, it might be best to lay off the free booze and caffeine, which dehydrate the body and can make you feel even groggier and 'hungover'. If you get sick of drinking water, try alternating drinks with juices or herbal teas.
5. Breathe Deep!
Even at the best of time, travelling can be very stressful and demanding, particularly in these troubled times. Practicing conscious breathing and meditation can help keep your mind clear and your face happy and calm! Try Deep Breathing in repeated counts of four, as in Breathe In 1-2 Breathe Out 3-4. You might like to imagine a peaceful scene such as a rainforest, or just practice mindfulness and being-in-the-moment. Sitting for long periods of time is what Zen monks do for a living, so use the in-flight time for some deep R&R. If nothing else, it beats the B-grade in-flight movie!
Here are some products we reccomend:



Makeup Remover
Joey's oil-free eye makeup remover pads are great, and easy to carry around.

From: AdoreBeauty.com.au




Aesop Facial Hydrosol
A great rose infused spray on moisturiser for dry skin in dehydrating environments.

From: AdoreBeauty.com.au




Knit Wrap Cardigan
So comfy and verstile, you'd want to wear them at home, to the gym or on a plane!

From:Peter Alexander




Classic Lounge Pant
They're super soft and great for long flights or long hours vegging out on the couch.

From: Peter Alexander




Sheepskin Home Boot
Like Uggs, they were made for indoors (and comfort), or for long plane rides.

From: Peter Alexander




Mimco Knitted Shrug
This fine knit is perfect for those days when you need just a bit of extra warmth

From: AdoreBeauty.com.au
Products added by Helen Lee