Michelle L – February 2005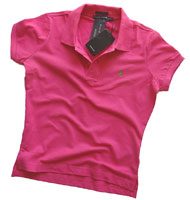 Ralph Lauren's preppy, all-American style is neatly summed up by the designer's classic polo shirt. Introduced in 1972, the Ralph Lauren polo with its iconic polo player logo originally came in 24 colours. Today, fans may choose various combinations of colours to designing their own individual polo. Whether it's White with a Newport Navy logo, Paloma Purple with Ice Blue logo, or Fresh Pink with Bright Lime logo, the Ralph Lauren polo always represents classic chic.
Why? Well, just consider that one of Ralph Lauren's favourite movies is High Society. The designer once told Vogue, "As a guy, I looked at Grace Kelly and said, 'That's the girl I want to go out with.'" Even girls can see the allure. Many may not own a Ralph Lauren evening gown, and few, if any, can emulate the elegance of Grace Kelly, but have a little piece of aristocratic American style? The Ralph Lauren polo takes care of that. The classic shirt inspires fantasies of a life filled with horse-rides in Connecticut, summers in Nantucket and uptown balls in New York. Debutante fantasies over, the polo is still one of the most practical pieces of clothing for any girl. Whether dressed down with jeans and sneakers, or dressed up with pretty skirts, the polo never goes out of style. As Vogue's Valerie Steiker said, 'What girl doesn't want a Polo player attached to her left breast?'
The most popular way to wear your polo's these days is to "pop" the collar up, it looks cool and keeps the sun off the back of your neck.
To indulge your own debutante fantasies or if you just want a shirt that is versatile and stylish find out where you can buy Ralph Lauren polos by visiting www.polo.com, where you can also design your own Ralph Lauren Polo.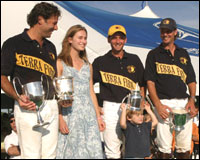 A LIFE OF PRIVILEGE:
The Ralph Lauren polo inspires fantasies of an aristocratic American lifestyle. Right: Model modelling the RL Polo. Far Right: Lauren Bush (President Bush's niece and model) with polo players in Bridgehampton.