Helen Lee – August 9 2005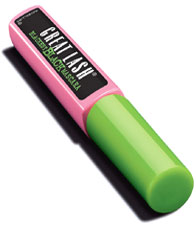 The saying goes, "Maybe she's born with it. maybe she's Maybelline". Well if you were born more than 2 – 3 decades ago, you would have grown up using Maybelline's Great Lash mascara, and surprisingly, unlike some things (i.e. the mullet, cassette tapes, and shoulder pads) it's still around!
It's America's best selling mascara since Maybelline launched Great Lash in 1971. Is it the bright pink and green tube that helps it sell a tube per 1.9 seconds in the US? Who knows, what we do know is that it has been a cult classic in the United States for a long time, and is quite often everyone's first mascara.
So besides what is written above, what makes it a cult product? Well there is the bright pink and green packaging, the fact that it is affordable, and it has been around for almost 35 years! These days it is available in Black, Very Black, Brownish Black and Brown, as well as in waterproof and non-waterproof formulas.
The creamy formula is quick and easy to apply, and gives you nice thick lashes. It is also Ophthalmologically tested, so it's safe for sensitive eyes and suitable for people who wear contacts.
It's a great and cheap mascara if you have nice lashes and want to accentuate them. For everyone else? There is hundreds of other mascaras on the market growing in cult status too…