Hanna Ashton-Lawson – January 27 2007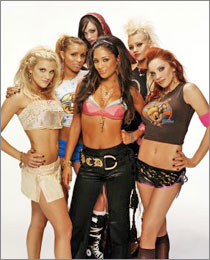 Too many young women are under the misconception that a requirement of appearing sexy is to show as much skin as possible.
You can't blame them. Miniskirts, low-cut singlets and flesh-baring dresses dominate the racks of clothing stores like Supre and Sportsgirl, and we are bombarded every day with advertisements using scantily clad women to sell products from shoes to CDs. In music videos the song is often a distraction from bare flesh and gyrating bodies; the fan base of a group like the Pussycat Dolls comprises mostly teenage girls and young female club worshippers, but if the men of the world can find a certain appreciation for Nicole and Co, the marketing bases are covered. Clever girls.
Some people however, are becoming tired of the same ol', same ol' videos. "I like their (the Pussycat Dolls') music," says Erin, an 18 year-old design student. "But I'm kinda sick of their music clips. Their clothes are so trashy. Their songs are so fun, it's a bit of a pity that they have to resort to flashing their skin." If the music is so popular (and their first album PCD sold four million copies worldwide) why do artists like these need to shake their booties wearing an ensemble that appears to have been savaged by wolverines or perhaps forced through an everyday office file shredder?
The first person that sprang to mind while undertaking the preliminary research into this question was, naturally, the queen of trash, Playboy pinup Pamela Anderson. With a wardrobe filled to the brim with clothing apparently designed to accentuate her already ample bust, she is hardly a statement of elegance. In the 1990s, Pammy was a successful woman. She starred in the popular television show Baywatch, she graced the cover (and centerfold) of many a magazine and pretty much dominated the male consciousness. In the 2000's however, it seems that – do we dare to hope? – the Playboy Bunny Era is over. An attempt to resurrect Pammy's fading career by casting her as the dumb blonde in the TV sitcom Stacked failed dismally; despite her obvious suitability for the role, the show disappeared from our screens without a trace.
Maybe, just maybe, young women are looking for other, more wholesome role models, like the epitome of class Charlize Theron, or the ex O.C. starlet, fashion icon and Hollywood "it" girl, Mischa Barton.
The news isn't all positive. For educated, intelligent young women it can be frustrating to hear a best friend gushing about how wonderful Paris Hilton is. No disrespect to Paris, but she is not exactly the pinnacle of class. Elegance is not just fashion – if our designer miniskirt and backless clubbing gear-wearing Ms Hilton is being broadcast all over the internet engaging in hand-videoed sex acts, what kind of message is that sending to the girls who look up to her as a fashion icon?
In the name of research, I described two fictional women to a group of men and asked which they would find more appealing. The women had equally attractive bodies and one was wearing a denim mini skirt, knee-high boots and a low singlet (I was aiming for a kind of Miss Rodeo '06), while the other had selected for the day a knee-length satin skirt, buttoned-up lace shirt with T-shirt length sleeves and peep-toe court heels. These particular guys were all from different backgrounds, with different tastes.
Alistair, a journalist, preferred the elegant girl (while conceding he had no idea what peep-toe court heels were). "The elegant outfit sends the message that a girl is someone you could have a conversation with. I find that an outfit that accentuates a woman's figure much more attractive than one which just puts it to your face … At least it leaves something to find out later!"
Ok, we have one vote for the classy lass.
"I would definitely find the woman with elegance and class more attractive," says Edi, an engineering student. "The way she dresses shows how she looks upon the world and how she wants the world to look upon her." Two votes for Ms Elegance. It seems that by dressing with class, a girl is not only viewed as respectable, but can also appear to be interesting and intelligent! This is a concept that Jessica Simpson is yet to fully grasp. "Personally, I would go for the girl with class," adds Jesse, a guitarist. "…'cause you know she's going to be more interesting than the tramp, for sure. Respectable is definitely hotter."
OK, three men doesn't constitute a Newspoll. But the comments point to the same thing: elegance, class and sophistication all win points.
"So what?" I hear you ask. "A few guys made a few comments. Let me wear my hotpants and knee-high boots in peace!" Perhaps we need living proof that classiness is the new black.
Carmen Electra, former Playboy bunny, co-star of Pammy's Baywatch (surprise, surprise) and creator of "strip-tease aerobics", has done what we thought to be impossible for a woman with breasts so large they appear to have been inflated with a bike pump. She has had complete behaviour and fashion transformation, much to our relief (and the despair of a few thousand teenage boys). Banished are her hideously low-cut, barely-there singlets, and we can breathe a sigh of relief because replacing them are demure pink dresses with length! Although she will never be a true statement of sophistication, Ms Electra has proved that fashion is changing for the better.
The '70s boasted high-waisted, flared jeans, and slowly the waistbands of our pants lowered. The late '90s and early 2000s watched as we continually hitched up jeans which were so low that they had the nasty habit of exposing half of our behinds. Obviously, the concept of elegance was still in development, as midriff-revealing tops were at the peak of fashion. Especially low-cut ones.
This way of thinking continued until roughly 2002. Maybe some poor girl finally snapped after sucking in her stomach one two many times and screamed out something like: "If I have to expose my butt-crack and worry about my stomach cascading over my waistband one more time, I will never wear pants again!"
Whether she did have a meltdown in Valleygirl or not I'll never know, but thankfully she (whoever she was) used those powerful words to create a new fashion trend that consisted of two words: long tops. These simple words were a cause for celebration, as we could still wear our ridiculously low pants, but with safety in the knowledge that our backsides and muffin tops (the unsightly bulge of fat escaping from a pair of pants) would be disguised.
This new concept was a major breakthrough in the fashionistas' quest for class. We were suddenly being encouraged to cover up the cleavage, which was a winner for those (like myself) who are not Carmen Electra in the chest department.
I'm encouraging everyone out there (are you listening, Paris?) to do a "Reverse Britney" and throw away your spangly backless tops and glittery G-strings. Any top higher than your belly-button that is not a sports-bra, item of swimwear or lingerie, is to be labeled: "Unwearable. Ever."
If someone who stars in her own series of strip-tease aerobics DVDs can discover class, then you certainly can too! Elegance is this season's must-have.