Helen Lee – June 7 2005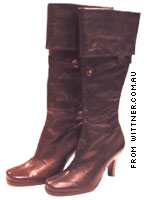 When it happens to be the cooler months of the year where ever you are living, it signifies the time where you have to change your footwear as well as your wardrobe. One of the most popular pair of shoes in Autumn and Winter is boots.
Love them or hate them, they come is so many different styles and colours it's almost as fun as summer flip flops and open toe sandals. Well almost.
They keep your legs nice and warm in winter, and lets you wear girly skirts without freezing to death. The hottest boots around this season is the coloured suede ones, and they come in so many shapes and sizes, pointy toed, round toed, high heel or no heel. How can you resist?
HOW TO WEAR IT:
While matching knee high boots with a mini isn't advised (guys always seem to get the wrong idea), a pretty wool A-Line skirt that hits below the knee with a nice pair of leather boots always looks great. Don't wear a skirt that hits the ankles though, besides the fact that it will get oh so dirty, but you won't be able to see your boots!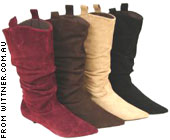 A popular trend is also pairing a pair of skin tight jeans with boots, and tucking in the bottom of your jeans into the boot, ala Kate Moss or Sienna Miller.
Wear them all season long, and you might not want to wear those flip flops or strappy sandals when summer comes around again!