Helen Lee – March 2003
Jeans. They are a part of most people's wardrobes, comes in different colours, sizes and lengths. They are worn by men and women, loved in the 80's, 90's and 00's. How can something that was adored in the 80's still be loved in this time and age when we look back at the 80's and think they were incredibly daggy?
Its simple. Jeans have evolved and they are timeless and part of pop culture.
Here's a low down on what some terms mean and a few brands.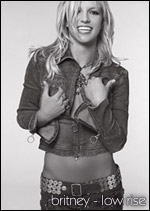 The Low-rise – Think Britney, think so low that you will probably have to wax/shave your pubic hairs, and so low that when you sit down people probably will be able to see your plumbers butt. A fabulous way to show off your cute cotton panties or sexy lacy panties, but not the best look when you have a roll of fat popping out or when you actually can see you pubic hairs or plumbers butt. Still it's a popular style, and great to show off your tan and tone tummy.
Vintage – Jeans with either whisker like lines, worn patches or different shades/washes. These are ultra funky and a fabulous way to show off your hip style. The great thing about this trend is that the jeans can come in many different styles like Low Rise, Hipster, Flares and Wide leg, so you can pick and choose what style suits you. Be careful when choosing some jeans with whiskers and patches because they can make you look fatter or shorter. So for something simple and not too messy if your worried, otherwise go for it! The funkier the more character they give your outfit.
Stressed – Similar to vintage, stonewashed and dirty denim, with un-hemmed or frayed edges and slashes to give denim a 'stressed out' look that's 'nicely worn in'. Interesting trend and it can look funky, but over done (e.g. with slashes at the arse or crotch) it can look tacky and cheap.
Embellishment – Crystals, studs, patches. Think slightly 80's, but not so extreme. It can be funky if used in moderation, after all we're not in the 80's anymore!
Slim cut – Think sleek and slim. This has less to do with what the waist line is and what the leg looks like. The look is more about the slimming effect of the jeans. Its almost straight leg, with a slight boot cut look at the bottom.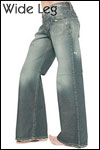 Wide Leg – Almost man style pants. They look almost baggy when not the right length, but great for that dressed down casual look. If you want to hide your shapely legs, these are the jeans to do it with. If you have no figure then tray to stear clear as they don't help your cause too much.
Dirty denim – "Gonna get Dirrty" said Christina. And we did. Filler yarns were woven into jeans and gave jeans a dirty look. As if we were just out working on the farm. Which of course we didn't, but it looks funky and we wear it anyway.
Stonewashed – Age old denim term. Jeans were originally washed with pumice stones to give jeans a worn out look, kind of like today's 'dirty denim' and 'vintage' looks. Only this look is now achieved with enzymes, sand, ceramic balls. Not as popular since Dirty Denim and Vintage looks hit the scene, but it's still a classic.
Flares – Think 60's & 70's. Think Woodstock. Ok most of us weren't born then… Well these jeans are slim along the thighs and start flaring out around the ankle area. This is popular today, without the psychedelic colours. Some take it to extremes and the flare completely covers their shoes, while most tend to like it because it has a sliming effect and does make you seem slightly taller. We wish!

Bellbottoms – Again, think back to the 60's & 70's. Only these start flaring out at the knees. A little bit more extreme or a little bit more funky… depending on how you look at it i suppose.
Boot cut – Slim along the thighs, with a slight flare at the ankle to leave enough room for a boot. These are popular too, as they can be slimming and gives the appearance of extra height.
The Popular Brands in Australia
Levis – classic brand that were around when our parents were kids. They have the classic 501 style as well as everything from wide leg to flares, as well as waist lines from low rise to your normal ones. They also have a wide range of colours and washes. The price range is pretty reasonable, but do shop around when you are buying Levis – some shops price them higher than other and the difference can be from $10 to something like $50. Visit Levis.com.au for more info on styles, cuts and colours.
Lee – i LOVE this brand. The jeans are super comfy and they come in such a large range of styles and washes it hard to find one you don't like. The price range is similar to that of Levis, but i personally think these are more comfortable and the colours more slick or funky. Do shop around when buying Lee Jeans too, as some shops may over charge more than others. For more information visit LeeJeans.com.au
Sass & Bide – New-ish Aussie label started by two Aussie chicka's. This label is known for they're comfort and their celebrity fans. They have nice styles, but not a large selection to choose from as the above two does, but Sass & Bide do cargoes and cords as well. So they almost have your entire pants section of your wardrobe worked out for you! As prices go they do tend to cost a bit, but not as much as it would cost you if you brought a Versace or a Gucci. Visit SassAndBide.com for more info.
Bettina Liano – Another Aussie designer, well known for her funky slashed, rock chick style denim. Slashed, hip and funky, her style is definitely edgy. Many fashionistas of Australia know all about her and her sexy style. For everyday casual wear Ms Liano is not, but if you want something edgy and different Bettina Liano is the way to go. Her jeans range from skin tight to your average hipster/low-rise/wide leg style denim. Though slightly damaging to the bank balance. For more info visit Bettinaliano.com.au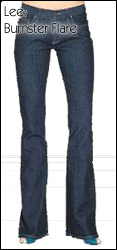 Favorite? My personal favorite has got to be Lee jeans one of the reasons among a few is that they are very comfy and have a wash for every occasion. They styles range from classic to funky to hip. The pair i adore at the moment are the Bumster Super Flares in the Midnight wash. It is part of their 'Riders' range, and I've already got 2 people on to them. And even though they're called 'Bumster' they aren't as low as the Low-Rise jeans!
Also a small hint if your from Australia… Bumster Superflares are cheaper at Myer/Grace Bros than Just Jeans and most other stockiest.
Sass & Bide comes in second, while I'm currently a tad undecided about Levis and Bettina Liano. But I do adore Bettina Liano tops and military style jackets…