Kimberley Foster – May 17 2005
« View 'Is saying "I do" the new thing to do?' part 1
Also jumping on the reality TV bandwagon is Britney Spears and Kevin Federline who recently announced that they too will create a show based on the five-month courtship that resulted in their marriage last year. In a bid to help counter tabloid gossip, the young couple, who are now expecting their first child, have signed with UPN to make six episodes documenting the path which led them to matrimony.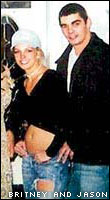 At 22-years-old, Britney was no stranger to walking down the aisle when she married Kevin. Just eight months earlier she married childhood friend, Jason Allen Alexander in Las Vegas before it was annulled two days later.
Nevetheless this is Hollywood and according to a report by USA Today the main reason young celebrities are tying the knot so early is a simple one – because they are rich. "Considering the accelerated life track that stars are on – they're buying their parents houses when their contemporaries are still taking out their parent's trash – it makes sense that they would arrive at the wedding chapel sooner," says the report.
So what about the average young couple who are without the celebrity bank balance but are also on the same track to early wedlock? For Amanda Delosa, 21 and her fiancé Peter Segar, 22, a lack of financial stability is one of the major reasons why they have chosen to have a long engagement. "We want to wait until we have our finances in order as weddings in particular can be very expensive," says Amanda.
There aren't many of us who can claim to having had an engagement party before our 21st birthday – Amanda can. In 2002, her boyfriend Peter proposed to her when she was just 18-years-old – they had been together ten months. "It was our 10 month anniversary, so I was very shocked but really happy nonetheless," she says.
Despite their decision to delay their wedding, last year Amanda and Peter celebrated with family and friends at a formal-style engagement party. "We want to take our time first until we know we are both ready. We have the commitment there so we both know that neither of us is going anywhere," she says.
When asked how she knew that Peter was 'the one' at such a young age, Amanda recoils. "Whenever someone asks me this question, I can never answer. It is more than words to describe that feeling of knowing that you are compatible with someone. It just feels right. When you know, you just know. It doesn't matter how young or old you are."
But does it matter? Is there a right age to get married?
Author and founder of several relationship-based websites, Pat Gaudette, believes that anyone who is not old enough to live independently isn't old enough to get married. "The emotion of love has no age limits connected to it. We are capable of loving at any age… [However] Forever is a long time. Forever is more likely to occur between individuals who have compatible emotional maturity and life experiences", she says.

Before you decide to take the plunge, take a moment to ask yourself these questions…
What are your expectations of marriage?
What will be different once you get married?
What do you each bring to the relationship?
Where will you live?
How will you work out your finances?
Do you want to have children? If so, how many children and when do you want to have them?
Do you have similar values and beliefs?
If you have differences, are you able to work through them together?
(Source: Relate – www.relate.gov.au)
For relationship advice, call Relationships Australia on 1300 364 277 (toll-free in Australia only) or visit www.relationships.com.au