Marziya Mohammedali – May 20 2006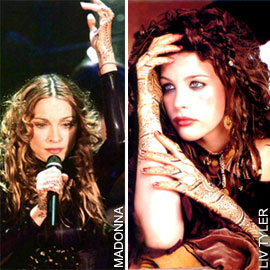 « View 'Henna Goes Global' Part 1
Unfortunately, due to the demand for henna art, as well as attempts to make it look more like inked tattoos, there has been an increase in the use of 'black henna'. Unlike natural henna, black henna does have serious side effects.
"There is no such thing as real black henna, and there's a real warning it shouldn't be used," says Irani. She recalls an incident when a bride she visited in India had applied the product to her skin, and ended up with a very painful allergy.
The adverse reaction to black henna can be traced to the composition of the product. Black henna is usually produced by adding black dyes to the henna paste in order to make the stain darker. Instead of brown, the stain is actually black, hence the name 'black henna'.
The dyes contain a substance known as para-phenylenediamine (PPD) that should not be applied directly to the skin. Cosmetics containing PPD have been banned for years, and most hair dyes containing the chemical have strict guidelines for use.
This is primarily because PPD is a sensitising element. It can easily cause an allergic reaction, and once a person becomes sensitive to it, they react adversely to chemicals and particularly to PPD itself.
Symptoms of PPD allergy include rashes on the site of contact, skin burns and infections. Serious cases may have the person breaking out in hives and developing heart and respiratory problems.
Amy Rylance, a student at Edith Cowan University in Perth, was extremely lucky that she did not develop an extreme reaction to a henna tattoo she got while on holiday in Bali in early 2005.
"I'd had them before and had no problem with (henna tattoos). I'd heard of people who had them done, and it swelled up, or it went red and sore and things, but I didn't think it would be that bad," she says.
Even though Rylance had never had a reaction to black henna before, the concentration of dye in the henna that was applied in Bali must have been strong enough to trigger a reaction. In less than an hour, the tattoo began to burn, and even though she tried to wash it off she still suffered blistering.
More than a year later, she still bears the scar from the burn as a blackened patch of skin near her shoulder.
While she was aware of what could happen with black henna, it was never a threat she had taken seriously. The artist who applied the design had been allowed to operate on the premises of the hotel she was staying in, so she thought that it would be safe.
Looking back, she says that while she had initially thought the idea of henna tattooing was cool, particularly with black henna, she does not now. "It's still black, though, I think it's not kind of cool now. I hope it'll fade, eventually. I wouldn't want it there forever."
Considering the dangers that are associated with black henna, it would be a lot safer to use the natural brown henna instead.
Be wise while being fashionable, and go the natural way!