Samantha Van – May 17 2005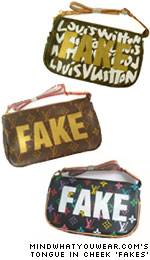 Do fake Louis Vuitton bags annoy you? Does the sight of one make you inwardly groan?
You're not alone. Emily*, 24, considers herself "as a very anti-fake person." The freelance graphic designer feels they give a "bad impression to the real ones."
"Many people have said that there are too many fakes [bags] around" Emily says. "If someone carries the real thing, others will think it's fake." It's a luxury customer's worst nightmare.
Actually, fakes don't automatically devalue the authentic. "Imitation sustains designer goods," University of Sydney Sociology Professor Joanne Finkelstein said. Copies emphasise the desirability of luxury goods. Hence, fakes don't "destroy the value of [for example] the Burberry coat at all."
But why buy a fake, "when you can buy another brand that is original, cheap and looks good?" Emily reasoned.
According to the Anti Counterfeiting Action Group's Chief Investigator, Ken Taylor, "stupidity" is primarily to blame. Peer pressure and cost the other reasons.
The experienced former policeman emphasised the safety risks involved. For example, counterfeit fragrances are made with "acetone, not natural oils" Taylor warned. Acetone is a widely used industrial solvent and chemical intermediate. Nail polish remover one use.
It's systematic effects range from dryness to coma in extreme cases.
However, it is cost and not safety that concerns counterfeit customers. Counterfeit items appeal to people who "wouldn't pay" regular prices, Taylor said.
But you get less than what you bargained for. Counterfeit goods are "mostly passed off" as real, Taylor said. Though most customers knowingly buy fakes, the ability to distinguish between authentic and counterfeit is perhaps hardest when it comes to luxury goods.
Replicas – high grade fakes – are fooling even those expected to know. BrandWeek's Jim Edwards reported that Gucci sued US discount retailer Daffy's for selling copies of its Jackie O bag. In their defence, store executives claimed they believed the bags were real.
The judge ruled that they were counterfeit, "albeit a high quality product capable of fooling even the most discriminating buyer."
Both Edwards and Claudia, 24, tell of others taking replicas to boutiques and obtaining repairs or replacement – without question. The nightclub manager herself shopped at the Sydney Louis Vuitton store and "the sales assistant thought it [her pricey replica] was real."
Claudia even claims her seven replicas "match the quality of the real Louis Vuitton" – of which she has two. Details copied notably include "the same oxidising handles". "It even smells like the real thing," she adds. "Little differences" are noticeable on inspection, though not to the average consumer.
"I'd say [my replicas] are about 99% mirror image."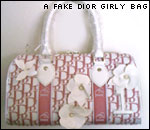 But many people are inadvertently buying replicas or even low grade fakes. Counterfeiters are even producing receipts of (in)authenticity, further preying on customers who'll buy online and not necessarily buy from the designer boutique.
Jen, 23, bought a "Dior Girly" bag from a seller on eBay. She had been "assured authenticity" by the seller. "The bag came with all the 'right' authenticity stamps, care booklet etc'." But the PA discovered the truth with "poor workmanship" and lack of "attention to detail".
* some names have been changed