Helen Lee – February 2005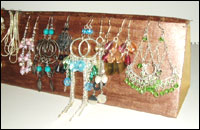 I use to want to go hunting for an earring stand, I was even going to buy one off ebay, but then I got lazy and startedt hanging all my dangly earrings off bits of cardboard, keeping them in little jewellery boxes, or losing them. Does that sound like you?
Well now you can make your own cheap (but cute) little earring stand too so your earrings won't go missing all the time.
WHAT YOU NEED:
Piece of cardboard (at least 25cm wide and 30cm long – can be longer)
Needle and thread
Nail Polish (optional)
STEP 1
You need to fold your piece of cardboard into a triangle, making sure you get enough height so your longer earrings won't dangle past the bottom.
Don't forget to leave a gap at the top, so your earrings can be hooked in the gap.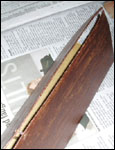 STEP 2
With your needle and thread sew together the ends and the middle like pictured. Make sure it's tight enough so that it won't come loose, but loose enough so that there is still a gap between the two ends! Otherwise you won't have anywhere to hang your earrings and you'll have to poke holes in the cardboard.
Then you're done!


STEP 3 (optional)
I didn't want my earring stand to be the boring brown cardboard colour and I had a bottle of Nutrimetics Nail Polish in Toasted Maple lying around (it was a gift), so I painted it with the nail polish, giving the cardboard a sort of wood like look.
When your finished…
Let the nail polish dry, then hang your earrings on and put them all on display. You can hang them on both sides of the stand so if you have a lot, you can show them all off.