Helen Lee – 2003
If you're like me and constantly trying to make my wardrobe more everyday friendly with bits and pieces that can be dressed up or down, and spending tons of money on new fabulous clothes, well here are some tips on how to add more pieces to your wardrobe, or dress up some old clothes you swear you never brought!
Want to see what I've done? Below is a top I made with a bit of lace from the craft store and about a metre of black material, and a bag I thought would look cuter with a ivory ribbon tied to the handle, and lastly a pair of boring black pumps which I glued red ribbon on to and di it up with a small bow at the back. Nothing special, but simple and it helps jazz up boring items!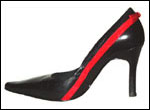 My Tips:
Change the colours of your clothes by buying fabric dye! (only if it has no print). Like a nice cut cardigan in a horrible shade of pink can be dyed black.
Be all artsy crafty and get some iron on patches and stuff from a art & craft store and sew them (yes sew them with a needle and thread). Or try adding beading. If you really really can't sew, there is such a thing as fabric glue.
Craft stores usually sell fabric pens/paint, you could add a funky pattern, logo, quote on to a cotton tee.
You could take up, or take down hemlines, cut the hem for the whole 'no hem' look.
Pull out the good old pair of fabric scissors and cut off sleeves, waistlines, etc. You can turn long sleeved tops into sleeveless ones, one shoulder tops, off the shoulder tops, etc.
Invest in accessories. Scarves, bags, hats, pins, badges, necklaces, earrings, bracelets, bangles, ribbons and safety pins can help you dress up a plain outfit that you might have worn a million times.
The easiest piece of clothing to make yourself is a strapless / boob tube-esq type top. Just make sure the top of it is elastic, so no matter what you do to the rest of it, it will stay up!
Lastly, just GO to a art & craft store, look around. You never know what you can find. Or take up sewing your own clothes or knitting yourself a funky scarf wool scarf for winter.