As you read this another announcement is probably being made for another high store and celebrity / design collaboration.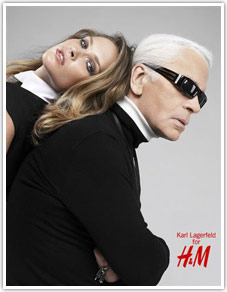 Karl Lagerfeld for H&M Designer fashion use to be unattainable for people on average salaries. Not anymore. Not since Karl Lagerfeld designed a collection for European chain store giant, H&M.
I think it's fair to say that H&M started this new wave of diffusion lines. Sure Isaac Mizrahi had done his first collaboration with Target America before Karl did his for H&M, but the Mizrahi collaboration didn't spark a customer frenzy quite like the Karl Lagerfeld for H&M collection did when it hit stores back in November 2004. H&M and every other chain store had never seen crowds quite like the ones that lined up outside the store and scrambled for a piece from the iconic Chanel and Fendi designer who's designs can fetch upwards of a few thousand dollars a piece.
Fashion had never flown out of a store quite like that before.
Chain stores wanted to get a piece of the action, so from Target to the Gap, Topshop to sporting goods giant Adidas, designer collaborations soon started popping up everywhere. And it hasn't stopped at just clothes; there have been designer collaborations for shoes, bags, sportswear, luggage and even mobile phones.
Has fashion really changed to be something for the masses? Or do designers crave recognition so badly that they will couple their names with a chain store for a few more people to recognize their name and earn a few extra dollars? I guess it would depend on the designer. After all it's not like Karl Lagerfeld himself is in need of a few extra dollars. But for brands like Luella Bartley, Christopher Kane, Belinda Fairbanks, and Behnaz Sarafpour, greater name recognition wouldn't hurt their bottom lines.
Once upon a time a designer diffusion line was sort of for the masses, Marc Jacobs launched Marc by Marc Jacobs at the turn of the century, aiming it towards a younger audience with a marginally smaller price point. Now it sells out just as fast as the Marc Jacobs line these days. Recently revived French label, Chloe launched a casual diffusion line around the same time with See by Chloe and it sold out soon after the collection hit stores. With jeans priced at around $500 – $600 in Australia, it was still much cheaper than forking out thousands for a piece of Chloe, but still not a price point that your every day customer could afford. Soon more designer diffusion lines received great prominence, the likes of Armani Exchange, Versace Jeans, Paul Smith Pink label, Alexander McQueen's McQ, and Moschino Cheap and Chic have helped create a wider consumer base for designer fashion.
These days' designer diffusion lines have collaborated with chain stores for an even broader consumer base. Perhaps collaborations are inevitable since chain stores have a fantastic ability to replicate the hottest looks on the catwalks, designers are collaborating in order to stem the flow a little. After all designer diffusion lines were cheaper, but not at chain store prices.
Topshop have an initiative to "literally bring catwalk fashions to the high street."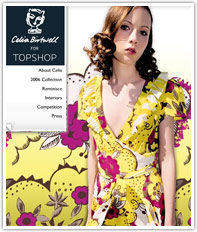 British designers who are presented with the New Gen award are usually asked to create capsule collections for Topshop Boutique, a special space in selected Topshop stores that holds limited edition garments. The Celia Birtwell for Topshop Boutique in 2006 was so popular that it apparently sold out within 3 minutes.
Up and coming talents like Preen, Emma Cook, Gareth Pugh, Peter Jensen and Christopher Kane have previously designed a collection for Topshop Boutique, with Pugh coming out to say he has actually made more money off his Topshop Boutique collaboration than from his own designs for his signature line.
"My life is one long financial struggle. Topshop's New Generation gives me £7,500 and I live on that," he tells Style Magazine. "I've never had a heated studio. I've got two plug points, which have to serve sewing machines, irons, spotlights and music. If I overload them with heaters, everything blows."
The Kate Moss for Topshop collection was the first non designer collection the retail chain put together. The collection was dubbed Copy Kate for the clothes that resembled designer pieces Moss owned in her own wardrobe. The was so much interest in the collection that the flagship Topshop store in Oxford Square launched the collection a day earlier, with the website also selling the collection from 4:30am GMT.
It helped that the supermodel was a live mannequin in the shop front to promote the campaign. Americans was so interested in the collection that Barney's made a deal with Topshop to stock the collection across the pond.
American Target pioneered the designer for chain store collaborations with their quarterly GO International collections which has seen collaborations with Proenza Schouler, Tara Jamon, Paul & Joe and Behnaz Sarafpour in the recent times.
"GO International is a new bold way for us to deliver the latest styles to our female guests at great value," said Trish Adams, senior vice president of Target.
"By partnering with forward-thinking designers, we provide our guests the latest trends and hottest styles at a fraction of the price."
And they probably make a pretty penny of it all too.
Target Australia also followed suit late 2006 with a collaboration with three talented Australian designers, Tina Kalivas, T.L. Wood, and Alice McCall. The first Designers for Target collection was an interesting step as the marketing was taken up a notch compared to other Australian designer chain store collaborations before it.
"I did this for Target because I really do like the idea of reaching a wider market, because maybe you can't afford all these designer pieces, yet something that's at a high street price, you don't bat an eyelid at spending the money," says McCall, whose pieces from her own signature collection usually cost around AUD$350 for a blouse or skirt, and up to AUD$600 for a dress.
Her collection for Target cost from $70 to $130, and pieces include printed silk dresses and camisoles which McCall's first break through collection is well known for.
"We have taken that signature, almost icon piece and translated it into a silk print," says McCall, "All of the usual Alice McCall traits are summed up in the garments and refined for Target."
"When Target came to us, one of their mission statements was that good design belongs to everybody and all people deserve good designs at reasonable prices," Teresa Liano, co-designer for Melbourne brand, T.L.Wood adds.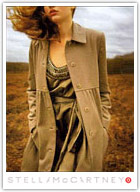 While the first Designers for Target co-collaboration didn't draw as much crowd frenzy as the international collaborations at H&M, they hit the nail on the head when they signed up former Chloe designer, Stella McCartney to design a collection exclusive to Australia at the end of 2006.
According to reports, McCartney was involved in every stage of the design process.
"She was hands-on in the whole process. She has been absolutely involved in every detail of production development, certainly in the design, fabric choice and colour," Larice Lewis, general manager of Target merchandise says. "These choices were taken all the way through to have whole outfits to put together – that was the basis of how the collection has come together."
After their first Designers for Target experience weren't cocky about the collaboration and didn't expect to see customer frenzy in stores.
"We expect this range to be very popular and we are sure there will be lots of women lining up before 9am," said Deborah Johnson, a spokeswoman for Target Australia.
"But I don't think we will see the scenes from London repeated in Australia. I think Australian women are more casual shoppers and will be a lot more polite."
They were rather optimistic if you keep in mind the Stella McCartney for H&M range sparked riots at the cash registers in 2005.
And after you check out the videos on YouTube you'll know that Australia fashion mavens are just the same as their counterparts in the UK, Europe and USA.
Fashion transcends cultures and countries after all.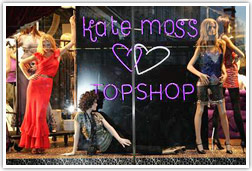 We all waited with baited breathe for the Kate Moss for Topshop collection to hit stores after all.
Yes a new wave of designer for chain store collaborations have begun. Instead of introducing new designer names to the world or bringing exclusive designer brands for the less wealthy, fashion icons are being lured by chain stores to design collections. Names like Madonna, Kate Moss, Sarah Jessica Parker, Mila Jovovich, Amanda Bynes, Penelope and Monica Cruz, and even Lily Allen and Scarlett Johansson have signed on the dotted line to collaborate with chain stores.
Rumour has it that Kate Moss agreed to collaborate with Topshop because this would stem the fast flow of the chain store copying her style at the drop of a hat. After all, it's not like she needs more pretty pennies.
The celebrity and chain store collaborations haven't yet reached the rise customer frenzy or popularity like the Stella and Karl collections have, but there has been some online backlash, with Bitten by Sarah Jessica Parker for Steve & Barry not quite reaching the kind of fashionable expectation that you would expect from the former Sex and the City actress.
"I always thought SJP had great personal style, now I see she had a great personal stylist! They look a lot like those clothes she modeled for those Gap ads she did a while back, especially those cuffed jeans!" said one commentator on Fashionista.
With the number of designer names and fashion icons that haven't done collaborated with a chain store dwindling, how long will this last? Of course there are all different products that still need the lure of a name or icon to sell well, but surely
Leading Sydney fashion retailer Robby Ingham told the Sunday Telegraph newspaper that he didn't think it was necessary to produce cheaper Stella-style ranges and criticised the promotion.
"It's a sell-out because the designers are only doing it for the cash," Mr Ingham said.
Mr Ingham said the Target promotion was not a threat to other businesses because it was not Stella's "real" brand.
"And, yes, I think the profile of the Stella McCartney brand is lessened. The input is minimal from the designer – rather, it is mass-produced merchandise."
While it did boost her profile in Australia, it may not mean your average Australian on their average salary can afford the real thing. So is it worth it?
Here is SASSYBELLA.com's comprehensive list of designer collaborations so far.
Adidas
Stella McCartney
Yohiji Yamamoto

Asos
Patricia Field

Barbie / Mattel (America)
Diane von Furstenberg
MAC

Barbie / Mattel (Australia)
Bettina Liano (children's wear)

KEDS
Nanette Leopore

Portmans (Australia)
Kit Willow 'Dream of a Dress'

Jeans West (Australia)
Tsubi / Ksubi's Alba Fan Club

Sportsgirl (Australia)
Belinda Fairbanks
Metallicus
Flamingo Sands
Sabi
Sisnme
Jo Nation

Nine West (America)
Vivienne Westwood
Thakoon
Sophie Kowalski

Kookai (Australia)
Tina Kalivas

H&M
Karl Lagerfeld (Nov 04)
Stella McCartney (Nov 05)
Viktor & Rolf (Nov 06)
Madonna (Mar 07)
Kylie Minogue (May 07)

GAP (UK)
Roland Mouret

GAP (America)
Thakoon
Doo.Ri
Rodarte

Glassons (New Zealand)
Karen Walker
Zambesi
Trelise Cooper
Kate Sylvester
Ruby and Cybèle

La Redoute
Christian Lacroix

Mango
Milla Jovovich
Penelope and Monica Cruz

Mulberry
Giles Deacon
Julie Verhoeven (Spring 07)

New Look (UK)
Giles Deacon modeled by Drew Barrymore
Lily Allen
Luella Bartley

Payless shoes (America)
Patricia Field

Puma
Alexander McQueen

Reebok
Scarlett Johansson's Scarlett hearts Rbk

Samantha Thalavas
Nicky Hilton

Steve & Barry (US)
Bitten by Sarah Jessica Parker
Amanda Bynes
Venus Williams

Samsonite Black Label
Alexander McQueen

Target (America)
Isacc Mizrahi
Luella Bartley
Proenza Schouler
Tara Jarmon
Paul & Joe
Behnaz Sarafpour
Cynthia Rowley
Patrick Robinson (July 07)
Libertines (Fall 07)
Alice Temperly

Target (Australia)
Josh Goot (June 07)
Stella McCartney (Mar 07)
Tina Kalivas
T.L. Wood
Alice McCall

Topshop (UK)
Christopher Kane
Kate Moss (May 07)
Preen
Emma Cook
Richard Nicool
Ann-Sofie Back
Gareth Pugh
Peter Jensen
Celia Birtwell
Unique
Markus Lupfer
Marios Schwab
Commes des Garcon and Speedo

Van Heusen (Australia)
Marnie Skillings (May 07)

Vans
Marc Jacobs

Victoria's Secret
Anna Sui

Uniqlo
Phillip Lim
Alice Roi

Mobile phones
LG with Prada
Motorola with D&G