Belle C – December 2004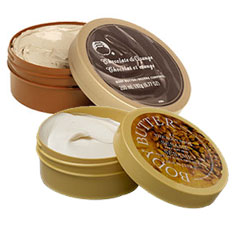 The Body Shop's Body Butter range may not be considered a 'cult product', however it is rapidly gaining ground as an absolute beauty must have!
The Body Butter range is currently the Number 1 Best selling product for The Body Shop – and with good reason! Cocoa Butter is well known for its moisturizing properties- particularly in the softening of scar tissue and creating a smoother complexion. Although the name 'butter' may leave you with the impression of an oily spread, The Body Shop's Body Butter is nothing like grease! The semi-solid creamy texture is perfect after a long soak in the bath, leaving even the roughest skin feeling nourished and well moisturised. The Body Shop's Body Butter is also soothing for tired or dry skin, which is a blessing for the upcoming summer months.
The luscious scents of Brazil Nut, Mango and Coconut (just to name a few of the scrumptious butters available) come two sizes, although I recommend the larger tub to really making your body feel and smell like heaven! It would also make a great gift for Christmas, and the staff at The Body Shop will gladly gift-wrap for you. For only AU$22.95 for a large 200ml tub, why wouldn't you?
Best of all, as part of The Body Shop's Community Trade projects, you will be helping generate income for disadvantaged communities!
Buy it online at a www.thebodyshop.com or at your nearest Body Shop Store.