Haidi Lun – May 2005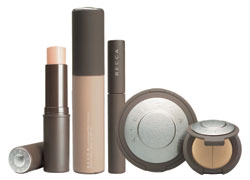 From its humble beginnings as an innovative concept in Perth makeup artist Rebecca Morrice-Williams mind, Becca Cosmetics has come a long way. Morrice-Williams' self-confessed obsession with the quest for the flawless complexion was the driving force behind the creation of Becca, the cult range of complexion-perfecting products that has taken the world by storm.
Since its launch in 2001, a new Becca counter has opened up every 10 days around the world, and this month finally launches its long-awaited stand-alone counters in selected Myer stores across the country. Becca's success in Europe and America is huge, and its fan base reads like a who's-who of Hollywood- Gwyneth Paltrow, Naomi Watts, Elle McPherson, Cameron Diaz, Beyonce, Laura Bailey and Danni Minogue to name just a few.
So why do so many women around the world rave about the wonders of Becca? Clearly the passion for gorgeous skin is not unique to Morrice-Williams, but most beauty-conscious women around the globe. Becca's foundation and concealer products come in a dizzying array of colours, suitable for the fairest Celtic maiden to the ebony African goddess. With the current concern over sun protection, Becca aims to please- the products boast SPF 20 to 30. With names like Cashmere, Macadamia and Honeycomb, combined with its elegant Grecian-style packaging design, Becca aims to appeal to both the sensory and aesthetic appreciations of a woman.
Becca's range of products aims to perfect and enhance the skin, through a multi-step process which creates flawless skin with the most natural finish. The Luminous Skin Colour ($58) is a silky liquid foundation which feels utterly weightless on the skin, and provides light coverage and subtle glow. Those battling with dark shadows or blemishes adore the Compact Concealer (AUD$49) which features two different formulas for medium or heavy-duty coverage. For fuller coverage, the Foundation Stick ($60) can be painted on and blended out for a glowing, immaculate finish.
The Silky Hydrating Primer is ideal for combating dry skin prone to winter flakiness, while the soft matte effect of the Mattifying Primer is great for oily skin types who want to avoid shine without sacrificing glow. The powders are some of the finest to be found- the Loose Finishing Powder is especially well-regarded for its ability to simultaneously set makeup and prevent shine whilst allowing the natural glow of the skin to show through.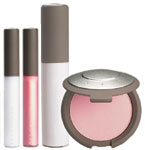 While the complexion products are clearly Becca's most infamous drawcard, the supplementary range of colour cosmetics are equally appealing. The Loose and Pressed Shimmer Powders come in a range of stunning and unique shades, and the Pressed version is subtle and fine enough to use as all-over without the oh-so-desirable disco ball effect. The Crème Blushes ($39) have an impressive fan base- celebrities from Gwyneth Paltrow to Naomi Watts are devotees- and come in gorgeous, wearable shades such as the must-have neutral Turkish Rose, and the ultra-feminine pink Wild Orchid.
The Crème Eyeshadows ($39) are great for those who usually avoid eye-makeup due to the time factor – a quick slick with a fingertip is quite sufficient with those shimmery creamy compacts. For the lip gloss fanatic in every girl, Becca's Glossy Lip Tints ($39) come in an incredible range of gorgeous shades while leaves the lips prettily stained with colour and shine. Makeup-artists and amateurs alike adore Becca's range of makeup brushes, which are reasonably priced and made from natural fibres for longevity and the most precise application.
Our top picks:
| | | |
| --- | --- | --- |
| A sheer but sufficiently pigmented liquid foundation with a SPF 20+. | A great concealer that covers just about anything without going cakey! | Finely milled texture, feels absolutely weightless on the skin. |
| A liquid highlighter to be worn or mixed with your foundation for a radiant glow | Gorgeous colours, for gorgeous lips. | Turkish Rose, the top-selling neutral brownish rose for the winter season |
For more information go to www.BeccaCosmetics.com, you can find out more about their products, or even shop online!