Helen Lee – March 2004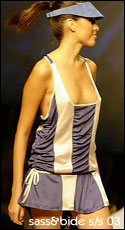 If you haven't noticed, the Mini is back. The mini phone, the BMW Mini Cooper, mini-um make up, mini Video (well they are called DVD's, but it's still mini!), so why not the skirt? But before you start stressing about how un-worthy your legs are for that ultra hot skirt that just graced the catwalks of New York, London and Paris, there are more than one ways of wearing a mini skirt and looking oh so hot in the process. So no more hiding behind those baggy jeans, knee length skirts, or even ankle length skirts!
The other day I was in a fashion office, helping style a fashion shoot. Not surprising when I pulled out at least 5 skirts, and 4 of the 5 were mini skirts. Mind you they were from Miss Sixty and so ultra hot. So we're coming into winter down under, but that is not an excuse to stop shaving or waxing and hiding those pins from the world. We're not talking Christina Aguilera in Dirrty type micro mini, we're talking about sexy meets girl with attitude that loves to show the world that she has legs and isn't afraid to show them off.
There are two looks that are so hot right now, there's the 60's mod look, where you can pull on your favorite bright coloured mini and opaque tights (so you can hide those unsightly ingrown hairs) and heels. And you will look so very chic and hip. Totally groovy baby. Or go for the punk meets bondage look. Slip into a distressed denim mini, with a cosy jumper, tights (or even fishnets) and a pair of boots. It's all about the soft punk look, almost girl next door meets biker chick. After all, there is no need to scare off that gorgeous guy who works down the road right?
Even though the cooler days will eventually set in down under, you don't have to put your favorite summer tank tops or tunic tops back into the back of your closet just yet. The one-shouldered disco tops are still gorgeous with designers transforming the look into beautifully draped, body-skimming dresses. Mini dresses that is.
So how do you convert it from the pages of the latest Vogue into real life?

While the weather is still nice and warm, bare those legs! For those with curvier body shapes stick to A-line minis that won't accentuate your hips. Also stick to darker colours or Pucci style prints and watch out for those tight and clingy fabrics that show off everything including your Visible Panty Line. Girls with body's that go straight down, you can pretty much get away with everything – you lucky things! Go for the prints, frills, pleats – the mini world is your oyster.
Just remember not to wear knee-high boots with mini, unless your looking to pick up Hugh Grant on a LA road and get caught by the cops! Ballet flats are oh so cute, as are open toe sandals, kitten heels, wedge heels or even the good old thongs.
When the weather eventually cools, you can slip into some opaque tights and some sexy court shoes. It makes your legs look longer and sexier. The material of your skirts should also be changing to thicker and warmer ones, things like tweed, thick cotton and denim are great for winter. And if your feeling a bit on the bad side, why not go for the leather?
Just remember to keep it realistic, after all we're not strutting down a catwalk or living in the pages of the latest Vogue! But do have fun with mini's and don't be afraid to wear them!